Thanks to Oruburos for the new icon.




Greziel Sprite by ScepterDPinoy




Logo by KeebyZ




Welcome to my DeviantArt page! :3 Hope you enjoy your stay.



I've been doing Flash for 6 years on a website called Newgrounds. I live in Katy, TX with my big brother, my sister, my nephew, my parents and Mom's dog, Wicket. He's so cute. :3 Plus, I go to Cinco Ranch High School. This year's my last year though. My birthday is February 26. I love Zelda, Resident Evil and Mario. Favorite has to be Mario.

FAQ:

Conventions I've been to:
I've only been to one convention. That was the Houston Comic Con 2015. I might go to the 2016 one.

What did you get from the convention?
I got 2 posters from a DeviantArt artist I met and a rare Mario Amiibo.

Who is your favorite YouTuber?
PewDiePie. No question about that.

What is your favorite color?
Um. That's hard. Either blue or red.

I also do music and stuff. I'm friends with Tay Zonday and other musicians so if you're looking for somebody to do you music, whether it be for a game or flash, email me at brunnockl@live.com.

Special Thanks to AssassinKnight-47 for the new profile picture and thumbnail art for my accounts.

The Kirby Collab 3 is back in action to celebrate Kirby's 25th Anniversary.

Join now!
Links


Who I'm like

Mental Age:26






What Older Mario Game Are You?
Hosted By theOtaku.com: Anime

Where I live

Get a FREE visitor map for your site!
Birthday Countdown Timer: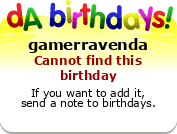 Best Peepers



































Nice and Kind People




The whole Quartet. And yes, don't judge.
:3





The two people with an icon that makes a picture. WTF?


Flipnote Buddies






Real Life Friend

Thanks for the fav!

The Kirby Squad




Currently working on:
The Kirby Collab 3
Kirby Superstar 3D
Demon Enforcers
Kirby Planet Robobot Sequel